A MODERN PROPHETIC VOICE
HARRISON FORD SPEAKS OUT ON CLIMATE CHANGE
SEE VIDEOS BELOW.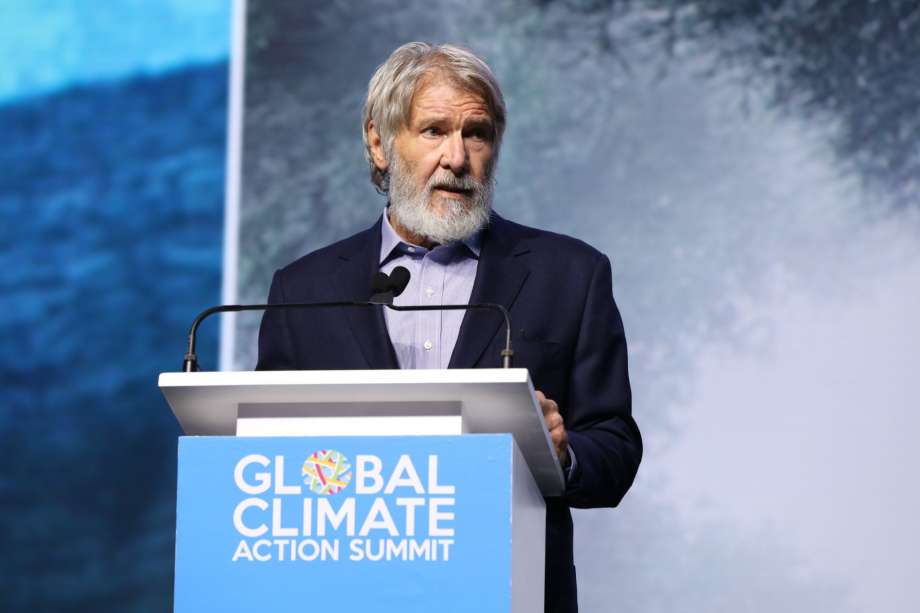 On September 13th, 2018, Actor Harrison Ford addresses
the crowd of the Global Climate Action Summit in San Francisco.
He gives an impassioned plea:
"Stop giving power to people who don't believe in science."
---
NOTE: YOU MAY NEED TO TURN ON AUDIO
ICON ON LOWER RIGHT CORNER OF SCREEN.
---
SHORTER VERSION
LONGER VERSION
---
EXCERPTS OF HARRISON FORD SPEECH
The future of humanity is at stake.
I beg of you, don't forget nature. Because today, the destruction of nature accounts for more global emissions than all the cars and trucks in the world. We can put solar panels on every house, we can turn every car into an electric vehicle, but as long as Sumatra burns, we will have failed. So long as the Amazon's great forests are slashed and burned, so long as the protected lands of tribal people, indigenous people are allowed to be encroached upon, so long as wetlands and bog peats are destroyed, our climate goals will remain out of reach, and we will be shit out of time.
Empower indigenous communities to use their knowledge, their history, their imaginations, our science to save their heritage and their lands. Respect and ensure their rights.
Stop, for God's sake, the denigration of science. Stop giving power to people who don't believe in science, or, worse than that, pretend they don't believe in science for their own self-interest.
We are all, rich of poor, powerful or powerless, we will all suffer the effects of climate change and ecosystem destruction. And we are facing what is quickly becoming the greatest moral crisis of our time.
This is the core truth. If we are to survive on this planet, the only home any of us will ever know, for our climate for our security and for our future—we need Nature. Now, more than ever.
Nature doesn't need people. People need nature.
---
LINKS
Day 1 of Global Climate Action Summit (9 hour video)
Harrison Ford Full Speech (7 minute long video)