ENERGY TAX DEBATE
AN IMPORTANT OPTION FOR U.S. DEFICIT REDUCTION
(See also our page on consumption tax.)
The World Future Fund does not have an exact position on this subject but we do feel strongly that we need to raise both private and public investment in this country.
Simply cutting spending and raising taxes across the board could make matters worse, not better.
What we need to do is increase incentives for investments while raising taxes on consumption.
In particular, we favor rises in energy taxes to protect both our national security and the security of our planet's environmental foundations of life.
---
INTERNATIONAL GAS TAX RATES
Shows the ridiculously low level of U.S. gas taxes. (Note this is in liters, not gallons.)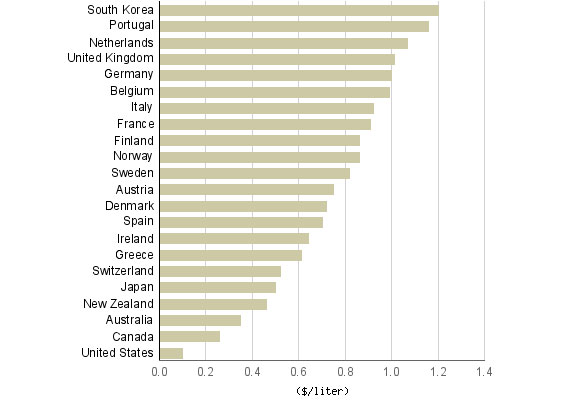 ---
CARBON TAX

Note: For calculation purposes, we assume the cost of carbon dioxide to be about $20 per ton, a price consistent with both European carbon markets and independent analysis conducted in the United States (1)
GASOLINE TAX

Carbon Tax Links:
Carbon Tax Center - Pricing Carbon Efficiently and Equitably
Forbes - Calculating the True Price of Carbon (1)
Carbon Tax Center - 4-Sector Carbon Tax Model (xls file) (2)
Princeton University Economics Professor Alan S. Blinder - The Miracle Carbon Tax Cure
What Is The Carbon Tax? (Wikipedia)
Gasoline Tax Links:
Tax Policy Center - International Comparison of Gasoline taxes
New York Times - Real Men Tax Gas (4)
AFL-CIO and Senators Ask for a Gas Tax Increase, Senators Agree
Washington Post - Tax Truth

What is the Gas Tax? (Wikipedia)